The following is an excerpt from my book, How Do You Know He's Real:  God Unplugged.  NFL quarterback David Carr (now with the Carolina Panthers) shares an amazing story.  In the books, famous recording artists, actors and athletes share personal stories of faith.  If you know someone who questions the existence of God, or who needs a spiritual boost, you should check it out.  You can find more information about the book series and see a list of featured celebrities on my website, www.hesreal.com.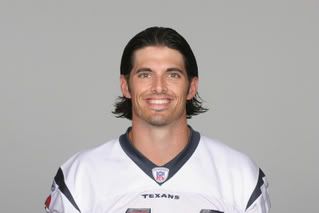 I was raised in the church my entire life.  I first received Christ at Wagon Train Camp when I was in fourth grade.  My cousin and I both dedicated our lives to Him the same day, and we've been best friends ever since. As I grew older, I was very involved with my youth group. The friends I made in that group are still my friends today – even more so than the friends I made in high school and college.
      Going away to college was hard a first, mostly because I had to leave my family.  Anytime you go out on your own, it's human nature to explore everything.  A lot of my friends chose to get mixed up in bad crowds but I never fell into that.  The thing that always brought me back into focus was my family.  I had such a good support system around me that I was never able  – as much as I tried – to veer off track.  My family always slapped me back in line.  It was nice to have them around.
      High school and college were a time of intense peer pressure. Being involved in sports, especially football, helped me stay focused on God.  It's amazing how many football players find a way to believe in God or at least believe there's someone out there helping them. There are a lot of things that can go wrong in the game – I've seen some very serious injuries.  And I've seen some guys who are just as talented as I am that just didn't happen to make it because of some freak accident. 
      Football is a serious contact sport as everyone knows, and there's a lot of violent action that goes on.  That's especially true when you're the quarterback – when  you drop back in the pocket, you've got five guys fighting for you and five guys coming to get you.  You're at the mercy of whatever they do.  But you really can't worry about it because you have a job to do – you need to throw the ball out on the field and complete passes.  It involves a lot of faith.  I've been playing football since I was in 5th grade, and to think that I've gotten this far without any serious injuries is really remarkable.  To think I've done that all on my own would be foolish. 
      There's no doubt I've been blessed.  Every day I count my blessings and realize that I'm not here just by accident.  It's tempting for professional athletes to take credit for their own accomplishments and let their celebrity impact their egos.  My grandparents always used to tell me that I was never going to get too big for anything I did in life.  They told me that God had a reason for putting me in these prominent positions … never forget it.
      I've tried very hard not to take advantage of my success.  I've played ball with so many friends who have fallen fast – at any time this can all be taken away.  In just one play an entire career can be over.  So you can go out there and get a big head and think it's all because of you, but to me, that just doesn't make sense.  I don't have to try very hard to believe that God's protecting me and He's got His hand on my life. 
      I remember one time in particular when I knew Christ was real.  We played the Tampa Bay Buccaneers in the last pre-season game before my official NFL debut in 2002.  I was only scheduled for five plays in that game  – after that they were going to take the starters out and rest them for the season opener the following week.  We were basically going to go in, get a couple of snaps and get back out. 
      It just so happened we got a couple of first downs and they decided to leave us in and keep the drive going.  On a pass rush, a guy came around and came free, and as I threw the ball I got hit hard in my left leg.  My cleat stuck in the turf and my knee hit the ground before the rest of my body.  I heard it "pop" and thought to myself, "This is not good." 
      As I lay on the ground waiting for the trainers to check me out, so many things went through my mind.  I refused to believe that I'd gone through all those years of training to have my career end before my very first game.  Right at that second, in a very quiet voice inside my heart, I heard, "Get up, you're not done yet."
      To the surprise of the coaches, I stood up, tested out my leg, and walked off the field under my own power. The doctors did x-rays but found there was nothing at all wrong with my knee.  It was obviously a miracle, because I've seen it on film – your knee is not supposed to bend that way.  I knew that I'd been protected.  At that moment, I just knew that God had brought me there for a bigger purpose – it was about more than just a football game.  That sort of divine intervention has happened many times over the course of my football career.
      About six months ago, my five year old son, Austin, was diagnosed with juvenile diabetes.  My wife, Melody, and I were shocked when we heard the diagnosis.  We kept asking, "Why did this happen to him?  Why do we have to go through this right now?"  But at the same time, I knew God gave me peace me in the midst of this struggle.  I knew that the peace I felt only could have come from God alone, because my normal fatherly instinct would have caused me to respond very differently.  I would have been a mess knowing that my firstborn son had a disease that would affect him for the rest of his life.   But God helped me realize we could turn this into something good – it wasn't just all about me.
      I knew everything was going to be okay and it was happening for a good reason.  Since then, we've been able to help so many other kids who have diabetes.  When we first found out about Austin, we went to a class to learn how to give insulin shots and check his blood sugar.  Many of the parents of stricken children, even kids as young as 6 or 7 months, weren't able to be there because they had to work.  I knew right there that we had to do something.  We had to go out and try to raise awareness, and raise money – do something to cure this disease.  And because of my platform we're able to raise so much more money to help out these kids.
      Football has always been just a game for me.  It just so happens that I get paid way too much money to play it.  And I'm thankful every day for the opportunities I have been given.  I'm doing something I love, and more importantly, I believe God has called me to do it.  Being in the NFL, especially being a quarterback, can bring with it a lot of pressure.  But I know that God wouldn't have me here in this position if it wasn't for a purpose.  Even if bad things happen and we lose a couple of games, it's all part of God's plan.  If I didn't believe that, I'd just as soon be a normal, everyday person who doesn't believe in God at all.  Because without faith, I wouldn't have anything.