IN THE SPOTLIGHT WITH TREVOR MCNEVIN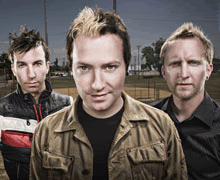 TREVOR MCNEVIN Q&A
I recently caught up with Trevor McNevin, lead vocalist for Christian rock sensation Thousand Foot Krutch.  Played on both mainstream and Christian stations, TFK is spreading their message of hope throughout North America.  Their latest release, The Flame In All Of Us was released in September 2007.  Trevor's amazing testimony is featured in the book How Do You Know He's Real:  God Unplugged by Amy Hammond Hagberg.
Amy:                  Tell me about the band's beginnings – how did you guys get together? 
Trevor:              I actually started the band back in high school, about 8 years ago now.  There was a whole different crew of guys back then.  As far as our current members that's actually kind of a cool story.  Joel, our bass player, and I grew up together when we were younger, like the 10-13 age group sort of thing.  We used to have this little rap group when we were little kids with his brother. Then he ended up moving away  when I was like 13 – I didn't even talk to him for like 7 years – he just moved away and we didn't see each other.  To make a long story short, about 7 years later he called me up one day and it just so happened we were looking for a bass player.  So he called out of the blue and was like "Hey, what's up man?" And we kind of caught up and it was totally God's timing because he called at the right time and ended up coming and auditioning and working out awesome.  It was nice to be in a band with a good friend. Our current crew is very stoked and we have a lot of fun with each other – I couldn't ask for a better group of guys to play with and be on the road with. 
                           Amy:                  What is the vision of the band?
Trevor:              The vision of this band has always been basically to try and make music that we love, that we would listen to and that our friends could get into on a Christian or just a non-Christian level because we've always had lots of friends on both sides of the page.  The whole heart is really just to make music that both groups of people could listen to and we could be honest about our faith and what we believe and hopefully make music that's legit enough that people are gonna listen to and hear what we have to say.
Amy:                  You are appealing more and more to mainstream music.  Has your vision changed over time?
Trevor:              No, honestly it hasn't.  Rock radio on a general market side of things or mainstream really opened up for us last year with our single "Rawkfist" and that was very cool; that opened up a lot of doors which was a huge blessing for us.  We're kind of seeing those doors open more and more all the time.  We'll see what happens with this record.  We've just really left it in God's  hands.  Our hearts have really been to focus and make music for the kids outside of the church and also to encourage other Christian kids for sure.  We've been very blessed to be a part of both.
Amy:                  For someone who doesn't know your music, how would you define your style?
Trevor:              I think we've walked a bit of a spectrum in the band since the beginning…I would say definitely a rock and roll band – a lot of edge.  But we have some really quiet moments too – so to both extremes.  I think we have a fresh approach.  We strive anyways to not just be another one of those bands that kind of sounds like one of the  many. I think we definitely recognize the blessings of using our abilities and gifts that God has given us, so the way we see it we want to use them 110%. 
Amy:                  So now are all of the band members Christians?
                           Trevor:              Yes, we are all Christian guys and it is definitely our lifestyle.
Amy:                  How do you guys incorporate your beliefs into your songs?
Trevor:              When I was growing up there were definitely a few years when my faith was spawned from my parents. You know where my beliefs or my going to church or learning or having to be in that atmosphere was more projected because my parents wanted me to be there.  But then there comes a time in your life when you're faced with kind of making your own choice.  And so for us, for me personally I think, and I can speak for all of the guys on this, it's a lifestyle that we've adapted and we've chosen.  We go to a church that's just really open Bible and non-denominational and kind of accepts anybody.  We believe in the Holy Spirit and it's just a big part of our lives.  We give God all the glory for anything good that ever happens or has happened through this band and we just know that it's His hand that's guided us this far and will keep carrying us through as long as we work hard and be where we're supposed to be.
Amy:                  As you write your songs, who are you hoping to reach?
Trevor:              I think what we're really making music for people who have a lot of questions.  In our lives we've had a lot of questions you know what I mean, and we can only speak about the truth that we know.  That's what I mean when I say that we just want to be real in our music and on and off the stage.  There are a lot of Christians in general that try to always put the mask on or put the happy face on even if they are going through stuff and they just will never, never admit it.  I just think that's also a very real thing – it's okay to have a bad day.  We're not all perfect.  If something's bumming you out you don't have to smile about it, you can talk to God about it, you can talk to people who can sort it out but you don't always have to be the glow worm.
Amy:                  Would you say that your fan base is equally split between Christians and non Christians?
Trevor:              You know what, maybe 60/40 with 40 being mainstream, but it is almost 50/50 at this point.  That's what's been really exciting to us too because that has always been definitely the vision of the band.   And we'll just kind of see what God has in store, it's in his hands.
Amy:                  In 2004 TFK was voted "An up and comer who's ready to rock the world" by Radio and Records Magazine.  What does that mean to you? 
Trevor:              It's exciting to us that the mainstream market would have something like that to say about us.  We don't really focus on one or the other market we just do the same thing and it is up to them how they perceive it.  I think it's been exciting to have that sort of feedback.  We're excited about this year too to try and set foot in both and see where we're supposed to go.  It's definitely exciting.
Amy:                  Trevor, you've got a lot going on.  How do you handle the pressures of your success? 
Trevor:              I think as a  Christian I handle it like any other person would.  From a spiritual standpoint I'm always like "God, I need your wisdom, I need your patience."  That's basically how I handle that sort of thing.  As a guy who just got married and is starting a new family and a new page in life it has been a real juggling act.  Keeping your priorities straight is the biggest thing because you can get so busy that you forget the important things sometimes
Amy:                  What would be your advice for hopeful musicians on keeping God first in their careers?
Trevor:              It's such a big topic; it's something that I really have a heart about… I could go on for hours! For one, people should ask themselves if they are supposed to be here, you know what I mean, what God really has for them.  Is it something that they really have the drive and the vision for?  Because if it's not it's going to be very short-lived.  It's something that can be the best industry in the world and the best place to be as long as you love what you're doing and you recognize that God gave you the talent and abilities that you have so you give him the glory.  Don't let any of that change you at all.  It can be the best thing but it can also be a very shady industry as well if you're not making the right choices. If you try and do it on your own and on your own strength you can fall flat pretty quickly.